UAW LOCAL 1999
RETIREE CHAPTER
Oklahoma City, Oklahoma
RETIREE CHAPTER MEETING
Second Tuesday of Each Month
7:00 P.M.
(NOTE: NO CHAPTER MEETING IN DECEMBER)

AFGE LOCAL 916
4444 SOUTH DOUGLAS
(Across the street from TAFB)
Meeting Hall entry and parking on east side of building, lower level
Mike Hadlock, Chairman
RETIREE CHAPTER HOLIDAY DINNER
Saturday, December 12
6:00 - 11:30 p.m.
Bricktown Central Plaza Hotel
Catered by Findley's
Entertainment by DJ Mike Black
Tickets: $3 per person, two tickets per retiree
plus five items of non-perishable food or $5 at the door
No Children at the Dinner!
Tickets will be available for purchase at 3400 S. Western
until Tuesday, December 8.
Please call Linda at 634-4030 before coming by.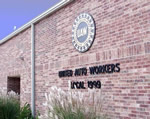 On the long road to GM's bankruptcy brought on by the myopic administration of GM by it's feckless board of directors and inept management there were many errors made, mis-steps taken. One of those mis-steps was the closing of the Oklahoma City GM assembly plant. The workers in that plant, represented by UAW Local 1999, were among the most productive and highly educated in the General Motors system and in North America. For 27 years this workforce produced a myriad of different products, handled a very complex build schedule and produced industry leading quality and profits. With the demise of the plant has come the demise of the Local representing those talented workers.
Out of UAW Local 1999 has come the UAW Local 1999 Retiree Chapter. Composed of the men and women who worked in the plant this chapter remains committed to the core goals of the UAW. These include working for the dignity of all workers and the pushing forward on a progressive political agenda. The members of UAW Local 1999 Retiree Chapter appreciate what collective action gained for them in negotiations and political action. They seek to continue to further those gains not only for themselves but for the community of working people in general.
This page has been viewed 906295 times.